Chimney Rock Elevage Duo
Two Bordeaux-inspired blends balancing power, grace and elegance from our Chimney Rock Winery in Napa. The perfect addition to any table.
This set includes:
Chimney Rock Elevage Blanc 2014
Chimney Rock Elevage Red 2013
https://www.uncorked.com/Chimney-Rock-Elevage-Duo/GS_CHIMNEY_MIX.html
Products

The 2014 vintage was one of the earliest and warmest on record. Small berries and balanced yields produced grapes that were extraordinary in quality. Modeled after the great white wines of Bordeaux. Sauvignon Blanc and the Sauvignon Gris grapes produce a complex white wine, with depth and great potential for aging but is enjoyable to drink now. Rich in texture and viscous in mouth feel, with lively acidity and a long and supple finish.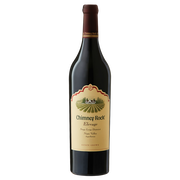 This vintage Elevage is a classic: seamlessly integrating rich tannins with great complexity and depth, it is a wine that can be consumed young or can be aged for 15 to 20 years. The front palate of this wine is rich and deeply textured. The mid palate is round and the tannins firmly structure with a long, balanced finish.