Rutherford Hill Trio
This trio of exceptional wines from our Rutherford Hill Winery in Napa are sure to pair perfectly with any meal. Explore the unique terrior with this collection of Rutherford Chardonnay, Merlot, and Cabernet Sauvignon.
This set includes:
Rutherford Hill Merlot 2014
Rutherford Hill Chardonnay 2015
Rutherford Hill Cabernet Sauvignon 2015
https://www.uncorked.com/Rutherford-Hill-Trio/GS_RUTHERFORD_MIX.html
Products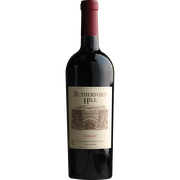 Rutherford Hill 2014 Merlot is an elegantly refined blend of classic Bordeaux varietals that create a beautiful bouquet of rich aromas and prolonged flavors. Lavish cherry fruit flavors are backed by a rich, balanced structure for an intensely complex Merlot.

Rutherford Hill Chardonnay is crafted from grapes grown in the cooler climate of southern Napa Valley that create a wine with striking balance and structure. The 100% Chardonnay fruit is carefully hand-picked into half-ton bins and whole cluster pressed to provide the highest quality wine possible. Full-bodied flavor is layered with crisp apple and vanilla. This Chardonnay has a great balance and structure with a lingering honey finish.

This ripe, sleek, elegant wine is carefully crafted then properly cave aged in French oak within one of the most extensive natural cave systems in North America, providing the ideal temperature and humidity throughout the aging process. This wine exhibits intricate and intense flavors of dark plum and cassis, with a thread of spices. Lush in texture, with velvety tannins.